Johannesburg to Nairobi Overland: Waterfalls & Beaches
Booking Dates
01/27/2021 through 12/28/2022
Travel Dates
01/27/2021 through 12/31/2022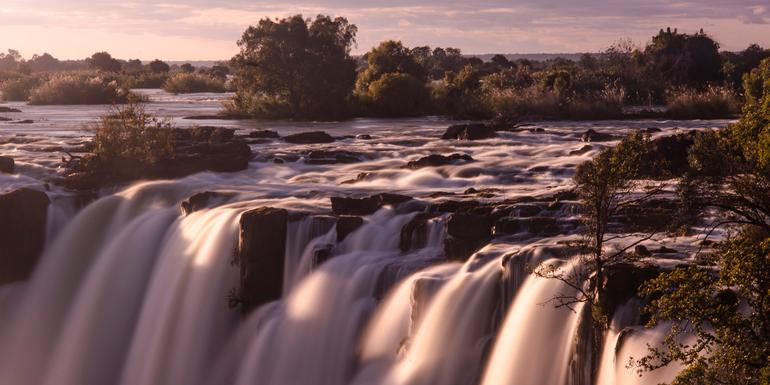 Johannesburg to Nairobi Overland: Waterfalls & Beaches
Now's the time to explore Africa on your terms with this tour that's affordable for young travellers. Tuck into a meaty month of adventure as you embark on an epic overland journey from Johannesburg to Nairobi, crossing the stunning wilderness of seven countries in between. Track Africa's "big five" on safari drives in the Serengeti and Ngorongoro and head to the Okavango Delta for a wildlife walk and mokoro canoe excursion. Inhale the mists of Victoria Falls and the fragrant air of spice plantations in Zanzibar. You'll make your discoveries from a rugged Lando, ready to take on any adventure. Hop in for a ride you won't want to hop off.

Highlights
Marvel at Victoria Falls, experience wildlife safari drives in Serengeti National Park and the Ngorongoro Crater, spend three glorious days on exotic Zanzibar, camp overnight in the Okavango Delta, Visit Khama Rhino Sanctuary, Sleep beneath baobab trees
Accommodation
Participation camping (19 nts), full-service camping (2 nts), simple hotels (4 nts, some multi-share with 3-4 people), bush camping (1 nt).
Group Leader
2 Chief Experience Officers (CEOs) throughout as head guide/cook and driver, certified safari guides/drivers, local guides.
Group Size Notes
Max 22, avg 18.
Meals Included
25 breakfasts, 22 lunches, 18 dinners
What's Included
Your G for Good Moment: Lusumpuko Women's Club Lunch, Victoria Falls
Your G for Good Moment: Tribal Textiles Market & Courtyard Cafe, Mfuwe
Your Welcome Moment: Meet Your CEO and Group
Your First Night Out Moment: Connect With New Friends
Your Discover Moment: Victoria Falls
Your Local Living Moment: Kande Beach Local Dinner, Kande Beach. Khama Rhino Sanctuary Drive. Okavango Delta overnight bush camping excursion. Zanzibar excursion. Spice plantation tour. Entrances and wildlife safari drives in Serengeti National Park and the Ngorongoro Crater. All transport between destinations and to/from included activities.
| Day | Description | View All |
| --- | --- | --- |
| Day 1 | Johannesburg | Details |
| Day 2 | Johannesburg/Serowe | Details |
| Day 3 | Serowe/Maun | Details |
| Day 4 | Maun/Okavango Delta | Details |
| Day 5 | Okavango Delta/Gweta | Details |
| Day 6 | Gweta/Kasane | Details |
| Day 7 | Kasane/Victoria Falls | Details |
| Day 8 | Victoria Falls | Details |
| Day 9 | Victoria Falls/Lusaka | Details |
| Day 10 | Lusaka/South Luangwa | Details |
| Day 11 | South Luangwa | Details |
| Day 12 | South Luangwa/Chipata | Details |
| Day 13 | Chipata/Kande Beach | Details |
| Day 14 | Kande Beach | Details |
| Day 15 | Kande Beach/Chitimba | Details |
| Day 16 | Chitimba | Details |
| Day 17 | Chitimba/Iringa | Details |
| Day 18 | Iringa/Dar es Salaam | Details |
| Day 19 | Dar es Salaam/Zanzibar Beach Resort | Details |
| Day 20 | Zanzibar Beach Resort | Details |
| Day 21 | Stone Town | Details |
| Day 22 | Stone Town/Bagamoyo | Details |
| Day 23 | Bagamoyo/Arusha | Details |
| Day 24 | Arusha/Serengeti National Park | Details |
| Day 25 | Serengeti National Park/Ngorongoro | Details |
| Day 26 | Ngorongoro/Arusha | Details |
| Day 27 | Arusha/Nairobi | Details |